Even if you are an administrator of a LinkedIn company page, you have limited options when it comes to blocking someone who is following the page.
Unlike your personal account profile, there is no block feature for company pages. However, this article covers the steps you can take to deal with issues with followers and comments.
Can You Block People From Seeing Your Company Page?
Company pages on LinkedIn are designed to be public. The administrators of company pages can't control who sees the page and who doesn't.
However, you do have some options if you're dealing with a problem situation. Here are some actions you can take.
Review followers and block them from viewing your profile
LinkedIn released a new feature in 2020 that allows Company page administrators to view a list of people who are following the page.
The feature doesn't always work, but hopefully, you'll be able to use it when you need to.
You can examine the list to see if there are individuals who you'd prefer not to see your personal account profile.
Once you've identified one or more LinkedIn members, follow the instructions in our article on how to block people on LinkedIn from your profile.
Report abusive activity to LinkedIn
This is an action that you should consider carefully before taking the necessary steps.
If the follower on your Company page is behaving in ways that are against LinkedIn policies, you can report their activity to Customer Support.
An example would be if the person is posting abusive messages or libelous material. LinkedIn may take steps to ban the member from the platform completely.
Don't expect an immediate response from LinkedIn. They will take some time to review the member's activities and to be sure that your complaint is justified.
Deactivate your Company page
This is the nuclear option but it may be your preferred choice.
There are some things to consider before you deactivate a page. You can't easily reactivate it yourself. Reactivating a page requires a request to LinkedIn Customer Support.
You can't simply deactivate the Company page and then create a fresh new one. LinkedIn doesn't allow a new page to reuse the same company name and email domain address.
You should also be aware that you can't deactivate a Company page with more than 100 followers. You will have to engage with Customer Support to deal with this.
Can You Ban Someone From Commenting On A Company Page?
You cannot ban someone from commenting on a Company page.
As there is no facility to block LinkedIn members from accessing or following the page, they are also able to make comments that appear on the page.
However, administrators have the option to delete comments they make on the page.
How to delete comments on a company page
Go to the comment and click on the ellipsis (three dots)
Choose "Delete" from the drop-down menu
Confirm your choice
You can also Report the comment in the same way.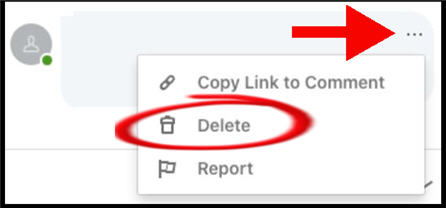 Can You Remove Someone Listed As An Employee Of Your Company?
One of the problems with LinkedIn Company Pages is that you have no control over who chooses to list themselves as current or prior employees at the company.
You can't change other people's work profiles. So, you can't delist them from your company. But you do have some options. Before we get into them, let's review what issues you may encounter.
Incorrect or rogue employees
Many people forget to update their LinkedIn status when they move on from a company. So, you can end up with inflated employee numbers.
Some LinkedIn members can make mistakes when specifying their current company or work history. There may be several companies with a similar name as your Company page. It's easy to pick the wrong one from a list of suggestions from LinkedIn.
Finally, some LinkedIn members may fraudulently represent themselves as current or former employees of your company.
Solution 1: contacting LinkedIn members to request action
Someone who had made a genuine mistake in choosing the wrong company in their profile will probably take steps to fix this when it's brought to their attention.
After all, this is stopping them from getting the LinkedIn benefits of making connections with people they work with now or in the past.
The big problem if you have basic membership is that the person must usually be in your network to be able to send them a message.
Check out our article on ways to connect with members outside your network.
Solution 2:  contact LinkedIn Customer Support to request action
If you don't get anywhere with contacting the member, you can request LinkedIn Customer Support to take action.
You'll have the best chance of action if the member is breaking LinkedIn policy. For example, if they are posting abusive messages.
Other Articles About Blocking
Want to know more about how blocking works on LinkedIn? Try these articles: