All the instructions on how to block someone on LinkedIn tell you that the first step is to go to their profile.
But what if you prefer not to open their LinkedIn page?
This article explains why you shouldn't worry too much about viewing a profile when you block someone.
However, if it's very important to you, we'll show you two methods to preserve your anonymity.
Why It's Hard To Block Someone On LinkedIn Without Viewing Their Profile
LinkedIn provides only one way to block someone automatically on the website or app. You have to go to the member's profile page, which has the link to block the individual.
We have a separate article with detailed steps on how to block someone on LinkedIn. The first step is to open the member's profile page. This is where the website had placed the Block button!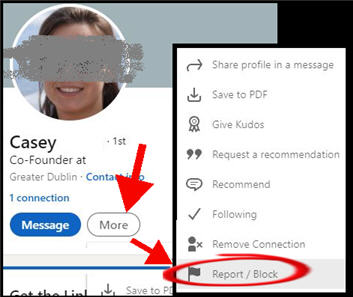 There's no other way to get to this link without going to the profile page.
Why do people worry about this method
It's understandable if you're worried about accessing the link this way.
We know that LinkedIn notifies us when someone has viewed our profile page.
So, if you're keen to block someone, you probably don't want them to know that you've taken this action.
LinkedIn doesn't show your activity to someone you block
LinkedIn removes details of your activity from the reports of the people you block.
You won't show up in their list of members who viewed their profile.
The platform also doesn't notify people when you block them i.e. it doesn't send a message saying what you've done.
There is one very specific exception that applies to people who share a LinkedIn Recruiter account. You probably don't fall into this category!
Is It Impossible For Someone To Know I Visited Their Profile To Block Them?
There is a small technical possibility that someone could spot that you visited their profile before you blocked them.
Let's say that this person is logged in and is constantly refreshing their list of who viewed their profile.
In this scenario, you open their profile and get interrupted or distracted before you click on the link to block them. Perhaps your internet connection suddenly cuts out.
The end result is a very long delay between viewing the profile and clicking a few links to complete the block.
If that delay is long enough, you could show up in the view list.
However, when you successfully block the person, your details will be removed from their list.
If this tiny window of possibility is of concern to you, then you have two options
Anonymize your profile before you block the person (preferred method)
Go through LinkedIn Support to take the action (last resort)
The next two sections deal with these options in turn.
Make Yourself Anonymous Before You Block Someone
If you're worried about the unlikely possibility of being briefly spotted, then you can make your profile anonymous before you take the action.
Our article on viewing people anonymously on LinkedIn will take you through the steps to do so.
As long as you choose the option of full privacy, all your details are hidden.
How To Block Someone On LinkedIn Without Viewing Their Profile
There are plenty of articles that say this can't be done.
LinkedIn instructions also say that the only way to block someone is through their profile page.
However, there is a method of last resort if you are in a situation of threat, abuse, or harassment.
You can contact LinkedIn Customer Support to block the person for you.
Be sure to have a serious reason for doing so. This is a serious accusation against the other person, and you must have facts to back it up.
It will be most helpful to your cause if the person has sent unreasonable messages through the LinkedIn platform.
The Customer Support team will ask for permission to view your messages so that they can investigate your complaint.
How to contact Customer Support
If you are a Premium member, you can access the Live Chat feature. You'll find it on the Help Center page (scroll down to the bottom). This isn't available 24×7 so you may need to wait to get a live person.
However, LinkedIn has a more direct method of reporting a situation of threat or abuse.
They have a contact form for reporting harassment by a LinkedIn member. The link changes occasionally, so I won't link directly from this article.
Instead, you should search the LinkedIn site for how to report harassment.
Viewing Profiles Without People Knowing
We've talked about how to block people without viewing their profile.
But what if you don't want to block the person? You'd like to see their profile without alerting them that you're checking them out.
Read our article on how to view profiles on LinkedIn without members knowing.