The extent to which you can block someone on PayPal depends on whether you have a Personal or Business account.
You have more options if you have a Business account, but there are some limited actions you can with a Personal account.
This article starts with a summary of what you can do with either type. Read on for step-by-step instructions.
Can You Block Someone On PayPal?
If you have a Personal account with PayPal, your options to block people are limited. You can only block someone if they are on your Contacts list.
I have detailed instructions in the next section on how to do so.
Unfortunately, anyone else who has your PayPal email address can still send you messages or request money. They can also send you requests if they have your PayPal.me link.
If you block some of your Contacts, they can sign up to PayPal using a different email address. This would allow them to keep sending you requests.
Blocking someone from a Business account
You can also block people in your contacts list with a Business account. However, you also have a lot more options for blocking.
Jump to this section where I explain every way PayPal gives you to block someone via your Business account.
How To Block Someone In Your PayPal Contacts List
You can use the PayPal website or the mobile app to find and block someone in your Contacts list.
A blocked contact cannot:
request money
send you money
send you messages
find your account in the PayPal directory
The steps are slightly different between the website and mobile platform.
How to block a contact using the PayPal website
Click on the "Send & Request" link in the top menu
Choose the Contacts tab
Click on the Contact you want to block
Choose the "Block this contact" link
Here is an illustration of these steps: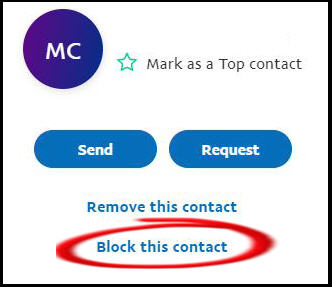 How to block a contact on your iPhone or Android PayPal app
Choose the Send menu
Find the contact you want to block
Click on the "more options" icon (three dots)
Click on the Block button
How To Block Someone If You Have A Business Account
You have several options to block someone from sending money to your business account.
Use the dropdown menu under your account name to open your Account Settings.
Choose the "Payments preferences" link in the left pane
 Click on the "Update" link in the "Block payments" section.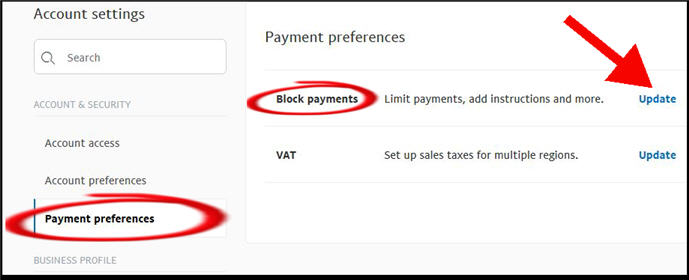 The "Update" link opens a page with several different blocking options. You can choose to:
Block payments in a currency you don't hold
Block accidental payments (useful if you create duplicate invoices by mistake)
Block eCheck transfers (this does not work for eBay)
Block payments from the "pay anyone" subtab on PayPal Send Money tab
Choosing who to request money from
You also have the option to set up a list of up to twenty people for sending money requests.
The "Request" tab gives you an input box to enter their phone number or email address.
If you want to block someone you've added here, just delete them from the list.
Should you upgrade to a business account to get better blocking features?
If you are having a problem with repeated requests for money to your personal account, there isn't much advantage to upgrading to a business account.
However, the option to block unwanted currencies may be useful. And if you have a problem with duplicating invoices, then a business account can solve this headache.
Be aware that there may be higher requirements to verify your identity with a business account. You can check out our article on whether PayPal requires your SSN.
How To Block People From Using Your PayPal.me Link
You can't pick and choose who you block from using your PayPal.me link.
However, you can turn the feature off entirely.
Go to your account profile
Click the "Turn off my link" button
Workarounds To Block Someone From Sending You Money Requests
PayPal customers get understandably annoyed when they receive requests for money from people they don't know.
Unfortunately, PayPal doesn't provide a simple blocking feature. I've looked at some suggested workarounds, and I'll give my recommendations here.
Our recommended workaround
The simplest and safest solution is to switch the email address you use for your PayPal account.
You can do this if you suspect that your email has landed on a spammer's list.
A workaround we don't recommend
The big limitation with PayPal's blocking solution is that the person has to be on your Contacts list.
So, some people recommend a way to get the sender into your list.
They suggest that you send a tiny 0.01 cent payment to the requester's email list. That means that the email will now show up in your Contacts list. Then you can block them from there.
We advise you not to do this. The scammers now know that they have your current PayPal email in their list. All they have to do is switch their own email address and send you more requests.
Workarounds For Your Website
Is the problem coming from the PayPal widget on your website? The drastic solution is to remove the widget.
However, you do have other options. You can use software to block I.P addresses or entire countries from accessing your website.
If you're using WordPress, the free WordFence plugin will let you do this.
We have extensive instructions in our article on blocking IP addresses with Wordfence.
If you want to block an entire country with this plugin, you'll need the premium option.
There are also ways to do this without a plugin. However, it requires some developer knowledge about using what's known as the .htaccess file.
What Should You Do If Someone Sends You Unsolicited Money
We should all have this problem, right? Well, no. This could be the start of a major problem if you choose to ignore it.
You do not want to get caught up in a spammer's activity. And if PayPal believes that these transactions violate anti-money laundering laws, then your entire account could be suspended.
We recommend that you contact PayPal customer support. Log into your account and you'll find the support link in the footer of the website.
How To Block PayPal On eBay
The solution is to unlink your PayPal account on the eBay website. This stops people on eBay from making transactions with your eBay account through PayPal.
Follow these steps.
Log into your eBay account
Use the "My eBay" button at the top of the page
Choose the Account link
Choose the "PayPal Account" item in the left pane
Use the "Remove" button
Related Articles About PayPal
Here are some other aspects of PayPal you should know: