There is no automated option on the PayPal website to downgrade a Business account to a Personal account. Only customer support staff can start the process.
You need to contact Customer Support to request the downgrade of your account.
Unfortunately, the PayPal forums have many complaints from customers having difficulty getting a downgrade. This article gives you our best tips on making it happen.
How To Downgrade Your PayPal Business Account To Personal Via Phone Support
If you are in the United States are most European countries, you will have the option to call Customer Support.how-to-
To make contact via the PayPal website, log into your account.

Steps to phone customer support
Click on the "Contact" link in the footer menu.
Scroll down to the end of the page and click on the "Call Us" link.
You may be provided with a passcode at this point.
A toll-free option and a local phone number will be displayed.
Customer service hours are also displayed.
Tips for getting through to an agent
When your call is answered, a bot will start giving you options to steer the call through an automated system. Don't bother with the system, you can only downgrade if you speak to a person.
Either say the word "Agent" to interrupt the message or wait silently until the system transfers you to an agent.
Problems you may encounter
Hopefully, your call will be answered swiftly and you'll speak to an agent.
Unfortunately, many customers have reported significant delays in recent years. Here's one quote in the PayPal Community Forum in 2021.
"I tried calling PayPal support and I was put on hold with no consultant to help me."
One customer described being on hold for over an hour. Another described how they only got an automated message.
"I tried contacting support but it always gives me a bot saying: "I'm sorry, but no Customer Support Agents are available at the moment…."
If you can't get through this way, then you should try some of the other methods mentioned later.
Using live customer chat
You may or may not see a live chat service on the Contact page. The availability has been fairly random through 2021.
What if you don't see a telephone number on the Contact page?
Some countries don't have a contact telephone number.
You will need to use the other methods I describe later in this article.
Using Facebook Or Twitter To Downgrade Your PayPal Business Account
If you can't contact PayPal customer support by telephone, then you can also try using their Facebook or Twitter accounts.
Here's the link to the official Facebook page.
Their company Twitter handle is @AskPayPal.
Of course, you shouldn't post your details in a public message. Instead, send a private message on either platform.
Unfortunately, some customers report on the Community forum that they do not get replies to repeated requests.
It's still worth sending multiple requests on both platforms. However, your best chance of downgrading your account is to talk to a customer support agent.
Drastic Solution: Close Your Business Account
If you're getting nowhere with customer support, you should consider closing your Business account.
You can then open a new Personal account.
Of course, this is not a welcome option if you have a balance on your Business account.
How To Check If You Have A Business Or Personal Account
You can check whether you have a Business or Personal account through the Account Settings page.
Open the Account Settings page
Scroll down to see the Account Options section
Do you see a link to "upgrade to a business account" at the bottom of the list of options? Then you have a Personal account.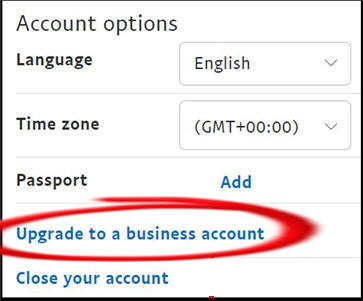 Be sure you don't click the Upgrade link just to see what happens. You can get caught in an update process that is not reversible without customer support!
Ignore Outdated Information About Automatic Downgrades
PayPal used to provide an online option that let customers downgrade their accounts.
You may find out-of-date information that mentions a downgrade link. Don't try hunting for it, as the option has been removed.
Avoid Upgrading To A Business Account Unless It's Necessary
Many people reading this article are trying to solve the problem of downgrading their accounts.
However, you may not have upgraded from Personal yet. If you're researching whether it's easy to reverse your decision, then you've probably realized that it's actually quite difficult.
I suggest that create a separate Business account instead of upgrading your Personal account.
You should also be completely sure that you need a Business account. Don't create one while you're still in the thinking or planning phase of starting a business.
The problem of required documents
You don't need to provide much documentation when you open a Personal account. However, the requirements are more onerous for a Business account.
PayPal may require you to go provide documents with your tax information. Check out our article on why PayPal may need your SSN.
The problem is that you can get stuck in limbo if you can't provide the documents required. I advise that you be sure that you can provide any necessary tax documents before you click the upgrade link.
Don't click the upgrade link assuming you can cancel the process
One customer reported that they clicked the link out of curiosity.
Once he had clicked yes on some legal agreement pages, he could no longer cancel the process.
Downgrading To Avoid Nuisance Or Suspicious Requests
Are you getting repeated requests for money transfers from unknown sources? You may be thinking its easier to avoid these by downgrading your account from Business to Personal.
But before you do so, you should be aware that PayPal gives Business accounts more ways to control who is contacting you.
Check out our article on how to block someone on PayPal. It runs through your options on the two types of accounts.