You can't use PayPal directly on Amazon, but there are legitimate ways to get around this.
This article runs through all your options to use PayPal indirectly on Amazon. We'll also give you all the reasons as to why Amazon doesn't accept PayPal.
A Summary Of How You Can And Can't Use PayPal On Amazon
This table shows a summary of methods that work and don't work on Amazon.
| | |
| --- | --- |
| Allowed | Not Allowed |
| Buy an Amazon Gift Card using PayPal | PayPal Credit |
| Use a PayPal Cash Card | PayPal Pay In 4 |
| Use a PayPal Prepaid MasterCard | |
| Use a PayPal Business Debit MasterCard | |
| Use PayPal Key | |
Read on for a detailed description of each method.
Use PayPal To Purchase An Amazon Gift Card
You can order an Amazon Gift Card online using your PayPal account. You can also walk into some retail shops and use your PayPal Cash Card to buy a gift card over the counter.
You can get these gift cards on eBay and plenty of other marketplaces. Be sure you're using a reputable marketplace and seller. One example is eGrifter.
This removes Paypal completely from your payment on Amazon. You will be entering the code from your gift card on the Amazon payment page.
Use A PayPal Cash Card To Pay On Amazon
Amazon accepts MasterCard debit cards for all payments.
The PayPal Cash Card is actually a branded MasterCard debit card.
As you can see from the picture below, the PayPal logo is all over this card. However, that doesn't impact using it on Amazon.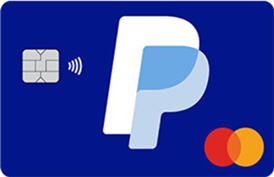 How to get a PayPal Cash Card
If you have a PayPal Personal Account, you can apply for their Cash Card. As this is a debit card, there is no credit check. You're unlikely to be turned down.
However, you will need to provide your Social Security Number during the application process. If you want to know more, check out our article on why PayPal needs your SSN.
How it works
The cash card is linked to your PayPal Personal account.
When you use it to make payments on Amazon, it pulls the money directly from your PayPal funds.
Pay On Amazon With A PayPal Prepaid MasterCard
You can order a Prepaid MasterCard from PayPal. Alternatively, some retail stores have temporary cards you can purchase over the counter and activate later.
The difference between this and a cash card is that when you pay on Amazon, the money isn't pulled from your PayPal balance. Instead, you have to transfer the money first onto the Prepaid card.
But you don't need to load the card from your PayPal account.
There are other ways, including over one hundred thousand Netspend locations. But watch out for places that charge a fee.
Use A Business Debit MasterCard
If you have a PayPal Business Account you can apply for a debit MasterCard from the company.
This card is linked to your PayPal balance. So, when you use it to make payments on Amazon, the money comes from your PayPal account.
Use PayPal Key
PayPal Key is a virtual debit card that is operated by MasterCard.
Instead of a physical card, you get all the details you need to make online payments:
Card number
Pin number
Expiry date
PayPal hasn't rolled out this option to every customer. It's currently not available outside the United States.
You'll know it's available to you if you see the option when you log into the PayPal website of the mobile app.
Interestingly, PayPal used to offer a virtual card back in the mid-2000s but they eventually shelved it. It remains to be seen if this one will stick.
PayPal Credit Cards Can't Be Used On Amazon
The cards we've described above have all been debit methods. PayPal also has credit options.
The company offers two versions of a credit line. One is a straightforward virtual credit card, and the other version allows you to spread payments across four installments.
Neither of these credit options can be used to make payments on Amazon.
Why Doesn't Amazon Accept PayPal?
Amazon hasn't made a formal statement that explains why they don't accept payments directly from PayPal.
But we can make some educated guesses based on history and their future business model.
There are four likely reasons in order of my assessment of their importance:
Direct competition as a payment service
Historic rivalry as a marketplace
Avoiding extra fees
No necessity
Let's look at these factors in a little more detail.
Direct competition as an online payment service
"Amazon Pay" is the brand name of the company's online payment processing service.
Amazon Pay was launched in 2007. This was nearly ten years after the creation of PayPal, and five years after PayPal went public in 2002.
Amazon Pay and PayPal are direct competitors in the same space. This is a serious disincentive to Amazon to make it easy for its customers to use a rival service.
Historic rivalry via eBay
PayPal was spun out of eBay, the giant online marketplace that is the biggest rival to Amazon.
Up until 2015, PayPal was owned by eBay as a subsidiary. Even though it's now an independent company, there are strong ties and integration between the two California companies.
It's fair to say that it's not in Amazon's interests to provide too much assistance to PayPal, in case that also helps eBay.
Avoiding extra fees
Amazon would have to give PayPal its cut in some way if the marketplace accepted PayPal transactions.
As a business, they'd have to pass this on to the customer. But Amazon strives to keep its prices lower than its rivals. The e-commerce giant isn't rushing to add to its costs.  
However, it's reasonable to point out that they accept plenty of other third parties as a payment service. This brings me to my last point.
No necessity due to other payment options
Amazon accepts quite a lot of payment methods. MasterCard, Visa, and American Express are just to name a few.
So, the company can pick and choose from any other payment service that wants to be accepted to their platform.
They can avoid using PayPal because their customers have many other options.