Banning people from your Facebook business page isn't as restrictive as you may think. Facebook does not allow you to block people completely from a published page.
This article looks at what happens you ban people. Then we cover four different methods to ban other Facebook users from your business page.
Can You Block Someone From Viewing Your Business Page?
You can't block someone from viewing your business page. Pages are public and can be found through Facebook's search features.
To remove the page from being accessed, you must unpublish the page.
Alternatively, you can ban users from liking, posting and commenting on the page.
This article covers how to ban individual Facebook users from interacting with your business page.
What Does Banning People Mean On Facebook?
Banning is very different to blocking a person on Facebook. The individual can still interact with the page and your account in several ways.
When you ban people from your business page, they can no longer:
publish to your page (if you've left that option open)
like the page
like posts on the page
comment on posts on the page
message the page
The banned person can still view your business page and share content from the page. They can also send messages to your personal profile if you haven't blocked them.
Banned users may also see details about business events through viewing the timeline of whoever is hosting the event. For example, your personal profile may be the host.
Banning on Facebook is less restrictive than on other platforms
Facebook have an odd approach to "banning" someone.
This is quite unlike blocking someone from a LinkedIn company page, which is far more restrictive.
If your next step is to deal with the same problem people on LinkedIn, check out these articles:
Blocking From Your Personal Profile Does Not Block From Your Business Page
It's important to understand that blocking people from your personal profile does not affect their access to your business page.
You must take separate steps to ban people from your business page. Facebook keeps your personal profile and your business pages very separate.
The rest of this article covers four different methods to ban people from your business page.
Method 1: Ban People Using "People and other Pages"
Here are the detailed steps with illustrated pictures.
Step 1: Open your business page.
Step 2: The left pane in your browser is titled "Manage Page". Scroll down to click the Settings link at the bottom of the pane.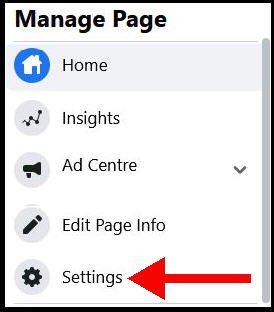 The left pane is now titled Page Settings.
Step 3: Click on the "People and other Pages" link which is down toward the middle of the list.
Step 4: Expand the dropdown menu under "People who like this Page" and choose "Banned people and Pages".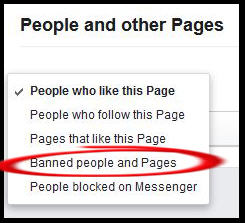 Step 5: When you click the link, you can now enter a name or email.
When you start typing name, Facebook will give you a list of ten possible users.
Problems with preemptive bans
How does Facebook choose which of the thousands of "John Smiths" to show you?
I've done some experimenting and the list of ten seems to be drawn from:
people who interacted with the page
friends of your personal profile
people in your geographical location
friends of your friends
This means that it will be difficult to create a new business page and preemptively ban a Facebook user that you think will cause trouble.
That user will have to be in the orbit of your personal profile in some way.
You can see this as Facebook protecting you from yourself! The person you are worrying about may not care a jot about your business page and interacting with it.
However, the moment that this person comments on your page, you will probably see them turn up in the list of ten. If you don't, you can use the next method to get straight to ban hammer.
Method 2: Ban People Who Commented On Your Page
If the person you want to ban has commented  on your business page, you can ban them via the comment.
Hover over the comment
Click on the ellipsis icon that appears to the right of the comment (the three dots)
Click on "Hide or embed this"
Select "Hide comment" from the dropdown list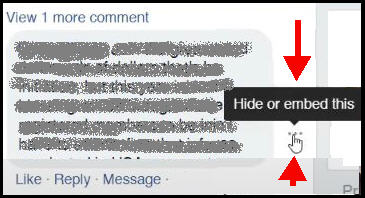 The comment has now changed status to being only seen by the person who made it and their friends.
From here, you see a link to ban the person who made the comment.
The picture below shows the new link to ban the commenter.

It's important at this point not to use the Delete link to remove the comment. If you do, you won't have the option to ban the user!
So, you need to take the next steps in the correct order.
Do you want to ghost the user instead of banning them?
Think about your options before you take the next step of banning the user.
The individual can probably figure out that they've been banned from your page if you do so.
However, if you leave the comment in this status, the person may not be aware that you've taken any action. They and their friends still see the comment on your business page but nobody else does.
This is known as "ghosting" a user.
If this isn't enough for you, then read on.
Banning the person (and deleting the comment)
When you click the link to ban the person, Facebook bans them from your business page.
You can then delete the comment entirely using the "delete" link.
Method 3: Ban Someone Who Posted On Your Business Page
If you allow other people to post on your business page (I don't), then you may need to take defensive actions.
Click the ellipsis in the top right of the offending post.
Choose "Ban from page"
If this is a repeated problem, I suggest that you turn off the setting that allows all and sundry to add posts to your business page.
Method 4: Ban Someone Who Sent A Message To Your Page
The first challenge is to find the page's inbox.
I find the easiest way is to open the page "Insights". There is a link to messages on the bottom of the left pane.
Choose the offending message.
Click the ellipsis in the top right of the mssage
Choose "Ban from page"
Extra Steps To Restrict People From Seeing Your Business Page
Even when you ban someone from your business page, you may see them liking events associated with the page.
How can that happen? Well, they may have spotted the events appearing on your personal timeline or posts.
Here are the next steps to take after banning them on your business page. Do them in this order.
Ban them from any other business page associated with your business or your personal account
Remove them from any groups associated with your business page(s)
Block them from your personal account.
Be sure that your last action is to block them from your personal profile.
More Tutorials About Business Pages
Here are some more work-arounds that people ask about: