Do you find yourself stuck as an admin on a LinkedIn company page but you no longer work with that company?
It can be surprisingly difficult to remove yourself as an administrator, particularly if there isn't another admin on the page.
This article takes you through the standard steps to remove yourself, and then we go through what to do if the usual process doesn't work.
How To Check If You Are An Admin Of A Page
If you're unsure of whether you are still an admin of a particular page, there's a simple way to double-check.
Log into your LinkedIn profile and open the company page.
Check your status displayed at the top of the page.
If the status says you are viewing in Admin mode, then you know you are an admin!
If there is a button labeled "view as admin", then this also indicates that you are an admin on the page.

Steps To Remove Yourself As Admin Of A LinkedIn Company Page
Log into your LinkedIn profile and open the company page.
Check the top bar to see if you are viewing the page as an admin or member
If you are viewing the page as a member, click the "View as admin" button
Expand the drop-down menu in the top right of the page
Choose "Manage admins" in the drop-down list

Click the trash icon beside your profile in the list of admin roles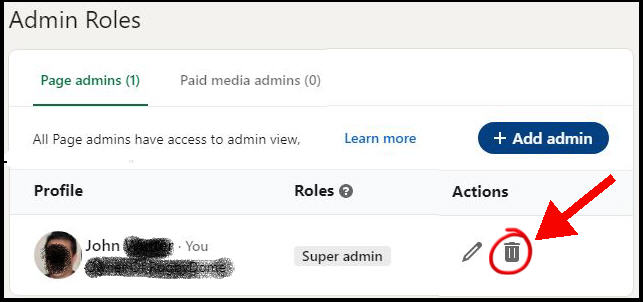 If you don't see an error message, then you have successfully removed yourself as an admin from the page. You can double-check by following the steps in our section on checking your status on the page.
However, you may see an error message that says:
A Page must have at least one Super Admin. Please reassign a Super Admin, or deactivate your Page under Admin Tools.
For some reason, LinkedIn almost hide this little error box down the bottom of the page. It's easy to miss so you're left wondering why your profile hasn't been removed from the list of admins.

However, if you see the message – the next section describes what to do.
What If You Can't Remove Yourself As An Admin?
If you see an error message when you try to remove yourself as admin, then you will have to take some further steps.
LinkedIn does not allow an active company page to be left without any Super Admin. If you are the only administrator on the page, you have three options:
Make someone else an admin and then remove yourself from the page
Deactivate the company page, or
Contact Customer Support to remove your profile from the page
Let's run through these options.
Making another admin before removing yourself
Run through the steps in this article on how to add an admin to a LinkedIn company page. [LINK]
It gives you the standard steps, and some fixes if run into problems.
Once you've successfully got another Super Admin on the page, you'll be able to remove yourself with the steps we described in the previous section.
Deactivate the page
If you want to proceed with deactivation, follow the steps in our article on how to deactivate a company page from LinkedIn.
Top tip: if you do this, be sure to keep the automated email that LinkedIn sends to your registered email address. That email has a reactivate button to recover your page if you change your mind.
Contact LinkedIn customer support to remove your status
I've had people contact me for advice who don't want to deactivate a page that they created for another person or company. But they still want to disassociate themselves from the page.
In this case, you can contact LinkedIn customer support to remove your profile as an admin.
Unfortunately, LinkedIn make it increasingly difficult to contact Customer Support when you're on the free tier. They make you jump through a few hurdles i.e. click a few links.
The trick for free tier members is to open a help page on the topic of Company Pages and scroll to the bottom to find the "Contact us" link.
You may have to click around for a bit to get to the support contact page which lets you open a support ticket.
When you fill in the details, ask them to remove your profile as an admin on the page.