When you create an account on most social media sites, you set up a profile that shows your chosen display name and some other details about you.
Other people may find your profile when they are searching for you online. Can you tell who has been looking you up?
This article gives you powerful tips on how to find out if people are searching for your details on these popular platforms:
Facebook
Instagram
Twitter
Snapchat
LinkedIn
Does Facebook Show Who Viewed Your Profile?
Facebook doesn't have a feature that shows you who searched for you there or looked at your profile picture.
Some third-party applications may claim that they can give you this information. But this is against Facebook's terms and conditions, and they will be shut down quickly.
However, sometimes you can see indirect evidence that other Facebook users have been looking at your profile or reading your posts.
The trick is to use the "People You May Know" feature.
Using the "People You May Know" feature
To use this feature, click on your Facebook profile to open the profile page.
The "People You May Know" box is at the top of the page.
You can scroll through a number of profiles that Facebook is suggesting as potential acquaintances.
The key point is to look for people with whom you don't have a mutual friend.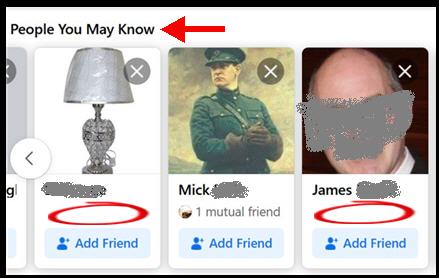 In the picture above from my Facebook account, the guy in the middle shares a mutual friend with me. (I haven't obscured the picture because it's a deceased historical figure).
Most of the "People You May Know" will fall into this category of sharing a mutual friend with you. That's why Facebook is suggesting that you know each other.
But the other two people in the extract above do not share friends with me. There must be another reason why the algorithm thinks we have some kind of link.
The problem is that we can't know definitively why Facebook picked these people. They do not make the details of the algorithm public.
However, it's reasonable to suspect that one reason is that the person interacted with you in some way on Facebook.
They may have gone so far as to like one of your posts. But they could also have just viewed your profile.
There are plenty of reports by Facebook users who noticed that someone popped into their "People You May Know" box after they opened the person's profile.
Does Instagram Show Who Viewed Your Profile?
Instagram is owned by the same company that owns Facebook. That's Meta now!
Unsurprisingly, they have similar privacy policies. Neither platform tells you who viewed your profile without interacting with it (through likes and shares).
However, you can get good metrics on Instagram about who likes your posts or watches your stories.
The system is similar to how I described Facebook in the previous section.
Click on the number of likes that are displayed beneath your post. This takes you to the list of user names who liked it.
Does Twitter Show Who Viewed Your Profile?
Twitter does not have a feature that shows you who viewed your profile or read your tweets.
However, if a person goes further and likes or retweets your tweet, you will be able to see this activity. To see who liked a particular tweet, open it and look at the line beneath the text.
This line tells you how many people have retweeted or liked your tweet.

When you click on either the retweets or the likes, you will see the user names of the people who have chosen not to be private on Twitter.
Do you suspect (or hope) that someone you have a crush on is checking you out on Twitter? You could try to flush them out!
Let's say it's a guy who is a big Patriots fan. Or it's a girl who is a big Patriots fan.
You could tweet the typical kind of message that a Patriots fan would enjoy. Then keep an eye on the list of users in the likes section. Good luck!
Does Snapchat Show Who Viewed Your Profile?
Snapchat gives you more details about other people than Facebook or Instagram. There doesn't have to be the same level of interaction.
The application will show you if someone has:
read your Snapchat story
looked you up on Snapchat mats
took a screenshot of your story
To see who has read your Snapchat story, open the "My Story" page.
The number of readers is displayed beside the icon of an eye.
You get to the list of user names who read the story by swiping down the screen.
Check Who Looked At Your Profile On LinkedIn
LinkedIn makes it easier than Facebook or Instagram to see who has viewed your profile on their platform.
Even the free account on LinkedIn lets you see the last five people who viewed your profile. The Premium account gives you more history.
To access this list, click on the link titled "who viewed your profile" under your profile picture.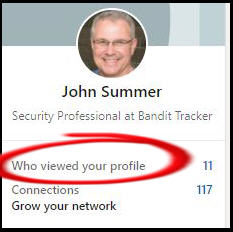 However, you may not see much details of people looking you up. LinkedIn users have the option to set their privacy in a way that hides most of their details.
This is what you'd see (yes, it really is that blurry):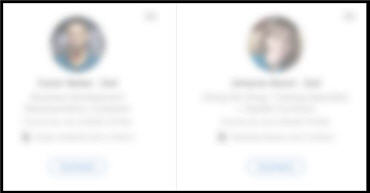 However, the default privacy settings are quite low and many people don't change them.
You may be able to see a full name, their city, their work history, and where they went to college.
If that has suddenly made you want to change your security on LinkedIn…check out our guide to setting your privacy on LinkedIn!